Paperwork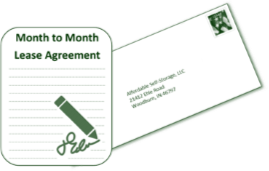 Please sign your lease and complete the form to elect recurring billing and mail all paperwork to our mailing address within 5 days of receipt. We do not have an office on-site; handling things through the mail and over the phone makes it easier for everyone rather than trying to coordinate schedules to meet on-site. Failure to return a signed lease does not release you from the terms of the lease and you will be asked to vacate the property. Once you've moved-in, you are subject to the rental contract by virtue of placing your property in the storage unit. The lease is for your protection as well as ours. Please return it in the SASE provided. Failure to do so will require you to vacate the property with no refunds.
Your Unit …Your Lock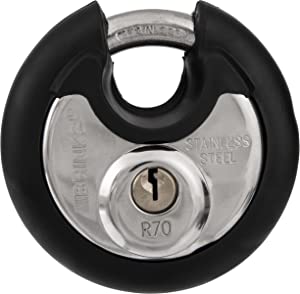 The combination lock present on the unit when you move-in is the property of Affordable Self-Storage, LLC.  It is not to be used to secure your personal property.  Tenants are provided a new lock which needs to be swapped-out with the combination lock. Failure to do so within 14 days of rental will result in being charged $50 for the lock (at which time the tenant assumes ownership).  A new disc lock is provided as part of a one-time intake fee and you're the only one with the keys.
Storage Insurance
For your benefit and protection, insurance for your stored items is recommended, but not required. We do not provide insurance coverage on your personal property. In most cases, your homeowner's insurance may suffice. Check with your agent about adding a secondary temporary location to your policy or check into renter's insurance.
Hours You Can Visit
Your unit is available to visit 24 hours a day so you can come and go as needed. There is limited lighting on the property, so we recommend scheduling time during daylight hours.  NO ON-SITE OFFICE.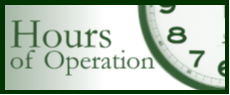 Hours You Can Call
Home office answering hours are:
Monday – Friday: 9:00 am to 5:00 pm
Saturday: 9:00 am to Noon
Closed Sundays and Major Holidays
Emergency?
While most inconveniences do not qualify as an emergency, if you need assistance and cannot reach us first at 260.632.5768
you may call 260.466.2705. Leave a message and we will return your call as soon as is reasonably possible.
When It's Time to Vacate
You can stay as long as you need to store your items on a month-to-month basis.  Keep in mind we do not pro-rate rent upon vacancy. When you no longer need your storage unit, please follow the following guidelines to ensure you receive a proper security deposit refund:
Remove all items from your unit. Do not leave debris or items you no longer want. Please discard unwanted items off the property.
Please sweep out your unit as this is how the unit was when you leased it. If new stains/marks or any other damages result from your tenancy, your security deposit will not be refunded.
Lock your unit using the gold combination lock you found on the unit when you moved in.
Give us 15 days' notice of your move-out before the end of the month. We depend on accuracy for new inquiries.
Failure to follow the above requirements will forfeit your deposit.
Deposits will be returned via mail once we have inspected your unit and find it in satisfactory condition.
When you are completely out of the unit, please call so we can inspect it and confirm the correct mailing address for your security deposit refund.